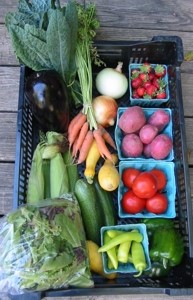 Fresh Produce -
Veggies, Greens, Fruits, Fresh Herbs,
and Potted Herb Plants
We grow a great variety of organic, nutrient-dense produce here at Earth Song Farm. The availability changes week to week and also with the seasons. Come to the farm or visit our booth at the farmer's markets.
Join our CSA farm share program to receive a basket of fresh organic produce each week of the growing season!