Organic Farm and Gardens
Growing methods....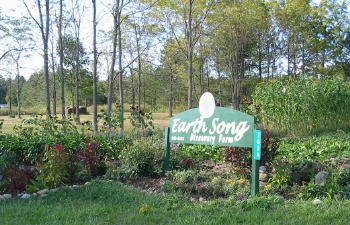 Many plants can only produce one crop per season. Therefore they are grown outdoors in soil that has been organically enriched. Here at Earth Song, we use strictly organic and bio-dynamic growing methods.
First we prep the soil. Earthworms are grown and released into the gardens to naturally compost the existing soil. We compost all available materials from the farm to strengthen the soil quality each year. Then we add a light coating of rock powder and ancient sea salts mined in Baja, Mexico. This re-mineralizes the soil adding around 90 trace minerals. We plant only non-hybrid seeds so we can collect seeds for the next year's garden.
We are also experimenting with bio-dynamic growing preparations. Another technique, called "sonic bloom", uses special sound frequencies that "sing" to the plants in tones that mimic song birds. This stimulates the plants to draw extra nutrients through their leaves.
Organic ? ....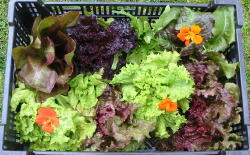 Although we use natural and organic methods, we have no interest in becoming "certified organic". With food now showing up on store shelves from all over the world with "organic" stickers, what does "organic" mean any more? Is it just marketing?
Also, hauling food thousands of miles is not very "green", not to mention the loss of nutrition compared to fresh local, vine-ripened food. We would much rather have you know the people who grow your food, so you can trust the source.
Earth Song crops....
Currently we have over 35 assorted young fruit trees in our orchard and a grove of nut trees. Other fruits include blueberries, raspberries, blackberries, figs, goji berries, grapes and various wild edible berry varieties.

vertical strawberry growing system

We are growing over 3000 strawberry plants hydroponically in a vertical stacked tower system. They are an everbearing variety that will keep producing all summer, long after the typical June-bearing strawberries are gone.

General garden produce includes beans, melons, squash, greens, root crops, tomatoes, peppers, asparagus, rhubarb and even edible flowers. A variety of basic grains are grown such as wheat, oats, barley, alfalfa and corn. We are also experimenting with growing ancient "grain-like" crops such as quinoa, amaranth, millet and buckwheat.

In addition to the traditional produce and flower gardens, we grow many culinary and medicinal herbs for making our extracts, salves, teas and other herbal products.
| | |
| --- | --- |
| medicine wheel herb garden | row of new blueberry plants |
The Animals....

Chickens... Our chicken flock includes around 80 black Australorp, Red Star and Golden Buff hens laying huge, abundant eggs. They are truly "free-range" having access to fresh air, sunshine, natural woodlands and organic pasture. Customers are telling us they are the best eggs they have ever tasted!

Goats... Currently we have eight milking dairy goats (Nubian, Alpine, LaMancha and Oberhasli) along with many kids born this spring. The Nubian babies are soooo cute with their floppy ears! The milk is delicious and nutritious. From what we've read, goat milk is more digestible and better nutritionally for us than cow's milk. We also use the milk to make kefir, cheeses and goat milk soaps. Go here to find more information about our Raw Goat Milk Herd-Share Program.

Let us know if you would like to try your hand at milking or helping to gather eggs!

At Earth Song Farm, we feed our animals Organic, "Soy-Free" and Non-GMO Feed, so that our eggs, chicken and goat milk are the best we can offer. We want you to know why, so you can make informed choices on what you feed your family (follow the link above).


"You ARE what your animals eat!"

Rabbits... We raise mostly Californian, New Zealand and Silver Fox type rabbits for meat. Rabbit is a white meat, similar to chicken in taste, and is actually the healthiest, most nutritious meat there is. It is low in calories and fat, but higher in protein, vitamins and minerals. Read more about the health benefits of rabbit meat here. We also sell our own brand of custom rabbit food, proven to produce winners!

Another side benefit of raising rabbits... manure for your garden or flower beds! Bring buckets or bags and we'll provide the shovel.

Ducks... We have a more rare heritage type duck breed called Welsh Harlequins. The males look similar to a Mallard. We also have Khaki Campbells, a similar breed that is more common. These breeds do not fly or migrate. They are known as a good meat duck, but we just like them for entertainment and the large eggs they provide.

Cows... We raise a smaller breed of cow called a "Dexter". They are kind of like a big puppy dog when they are young. We raise them 100 percent grass-fed, which is the natural diet for a cow... no grain ever! This makes their meat healthier, more nutritious and leaner.

Custom Feeds... Need a source of good feed for your animals? We have organic, non-GMO, soy-free custom feed for chickens and goats at a reasonable price. We also have our own "Earth Song" custom rabbit feed blend, known to produce many proven winners at the fairs.